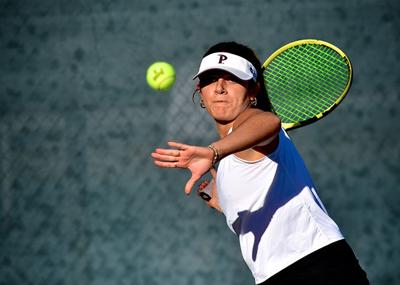 For the Islanders girls tennis team, the 2022 regular season has been yet another strong one. And with the conclusion of their 2022 Conference Playoffs last week, the girls in green and white will continue into postseason play this week.
Thanks to their strong play in the regular season, the Islanders squad earned the No. 10 overall seed in the San Diego CIF DII team playoffs, where they will face-off vs. Grossmont High School in the opening round this Tuesday, Oct. 25.
"Going into this match Tuesday, I'm very confident our girls can go in there and grab a win," said Islanders girls tennis Head Coach Robb Moore. "When you get into CIF Playoffs, the whole slate is wiped clean; no one cares what your record was in the regular season. The playoffs are a whole new season. We need to come out and be hungry, competitive, and play with fire."
For Coach Moore, the confidence in his team in playoffs comes from the fact that he knows this team can beat anyone. And truth be told, they have, as they locked up wins this season vs. San Diego High School and the Academy of Our Lady Peace, two teams that are currently seeded to play in the CIF San Diego DI Playoffs. And even possess a UTR team rating higher than their round one opponent.
I asked coach Moore what he thinks the girls will need to be most focused on for their matches, to which he told me, "When the girls are on they are all sound in their mechanics and their stroke production. When the girls have excelled, it has come from their ability to use strategy to help control the court and place certain shots. They'll need that to be successful."
For Coach Moore, the playoffs also present the opportunity to slightly tweak the lineup and possibly switch around some doubles pairs or change a member of the singles lines to help the Islanders have a better shot at picking up points.
"I don't think I will be making any big swaps, but I may move a girl like Nikki O'Malley from her singles line to doubles to help bolster our chances to get points on the doubles line since she's an incredibly strong doubles player. As well, I may end up putting one of our seniors Abby Reyes into singles as she plays very well there and I think can pick us up a point," said Moore.
For Moore to pick up a win on Tuesday, the whole team will need to be at the top of their game, but he did pick out a few names for who he'd be leaning to nab them some early points.
"Isabel Figueroa will be big in the singles; if she could pick up a win on her line, that would give us a big boost. As well, on the doubles line, if we could get points from Jimena Cortes and Nikki O'Malley, that would ignite this team. But again, to come out with a win, all of our players must play close to the top of their ability."
Another name that Coach Moore will undoubtedly be leaning on will be senior Kate Perley, who had missed a chunk of time this season due to injury but has been able to return for the latter part of the season and has played at an all-CIF Level. She will no doubt be an X-factor for the Islanders.
This Islanders girls tennis team undoubtedly has the depth and talent to go deep; now they just have to go out there and show it.